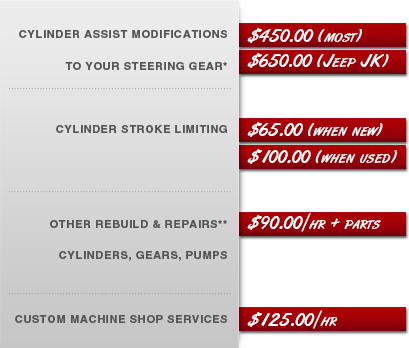 PSC has a full team of expert technicians available to service and maintain your PSC products.
We're committed to helping our lifetime customers get the most from their investment in the world's best performance power steering products.
AVAILABLE SERVICES:
PSC Steering Gear and Pump Repair and Rebuilding
PSC Assist and Steering Cylinder Reseal
PSC Assist and Steering Cylinder Stroke Limiting
Benefits of PSC Service:
OEM Parts for PSC branded Steering Gears, Pumps, Cylinder Assist™ and Full Hydraulic Steering Cylinders, and Rack and Pinions
12 Month Limited Warranty
20 years of Friendly and Expert Knowledge
How Do I Send My Component To PSC For Service:
1) Complete a SERVICE REQUEST FORM
2) Print out the SERVICE REQUEST FORM and place it in a plastic baggie to prevent oil soak, and include it in the package with the component.
3) Thoroughly drain item(s) of fluid and, if available, use port plugs
4) Use a plastic wrap/bag to keep your package from leaking. UPS/FedEx/DHL will declare a package a HazMat if the packaging is soiled by fluid leaks, which could delay or terminate the shipment
5) Ship the package with the common carrier of your choice. PSC recommends shipping via UPS or FedEx Ground service and insuring the package for replacement value. All other carriers are
shipped at your own risk. PSC Motorsports is not responsible for any item(s) damaged during shipping. Sender must file a claim with the carrier of choice.
Questions Frequently Answered:
Service turn-around time is typically 7-10 business days

For Warranty Service Items, please call 817-886-2855 to obtain a Return Goods Authorization (RGA) number before shipping your item to us. Be advised, if an item(s) submitted does not qualify for Warranty Service, item(s) are subject to a repair and/or restocking fee and return shipping charges.
Assist Cylinders with a BENT ROD cannot be repaired for less than a NEW item can be purchased. Shop for a replacement here

For service order status and/or updates, please Contact PSC Service or call 817-886-3149