Our Team of expert technicians have years of experience modifying and repairing all manner of power steering components. We're ready to help you get all you can from your steering system. From rebuilding stock components to all-out full hydraulic kits and anything in between, we know what it takes to make your steering system perform - every time.
Trust the name that is trusted by thousands worldwide:
PSC Motorsports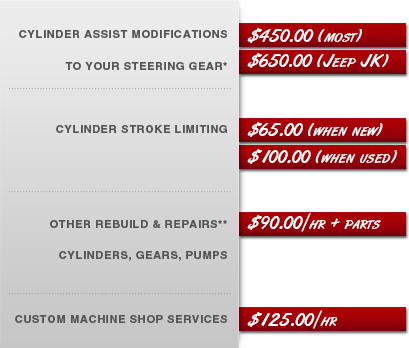 PSC SERVICES THE FOLLOWING:
Delphi/Saginaw steering gears and pumps
Toyota steering gears
Suzuki steering gears
Ford steering gears
When sending us parts for service, please print out
THIS FORM
and include it with the part so that we know what to do when we receive your package.
Call for an estimate. Please note this is an estimate only. A firm repair quote will be provided once parts are received and examined by PSC.